Konfetti selber machen / Konfetti to go
Hallo Ihr Lieben,
Narren und Närrinnen aufgepasst, in den nächsten Tagen kann es laut, lustig und komisch werden. Die 5. Jahreszeit ist zwar längst ausgebrochen, findet nun aber in den nächsten Tagen ihren Höhepunkt! Zeit um Konfetti selber zu machen, Zeit für Konfetti to go!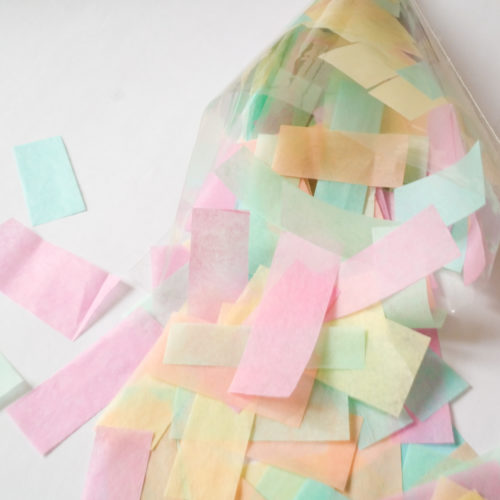 Fasching oder Karneval
Wie auch immer, es ist und bleibt hier und da ein kleiner Ausnahmezustand im Februar. Zugegeben hier bei uns in Sachsen wird nicht ganz so ausgelassen gefeiert wie im Rheinland, im Saarland oder in Bayern, aber es findet statt. Mehr in Studentenkreisen, Kindergärten und Schulen als im alltäglichen Leben, aber immerhin.
Wenn man mich spontan fragt, was gehört zum Fasching dazu, dann würde ich antworten:
Konfetti
Pfannkuchen (auch als Berliner bekannt)
Kostüm
gute Laune
Konfetti zum selber machen XXL
Eigentlich mag ich kein Konfetti, also dieses kleine Mini-Streusel-Konfetti. Ist es einmal auf einen herab gerieselt, hat man es die nächsten 7 Tage immer und irgendwo. 😉 Deshalb gibt es bei mir nur XXL Konfetti zum selber machen.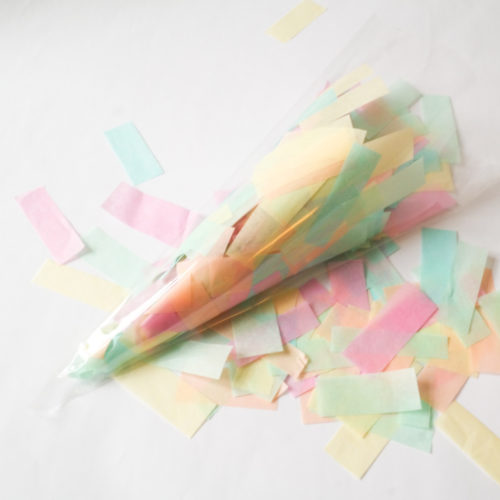 Es ist leicht gemacht, kann schnell wieder eingesammelt werden und sieht auch noch hübsch aus.
Da es diese Jahr sicherlich wieder ein paar Einhörner zwischen den Sträflingen, Piraten, Prinzessinnen, Bauarbeiterinnen und Ninjas geben wird, habe ich kurzerhand zur Seidenpapier Einhorn-Edition gegriffen. Ein Set mit 10 Bögen Seidenpapier in 5 verschiedenen Farben, jeweils im Format 50 x 70 cm.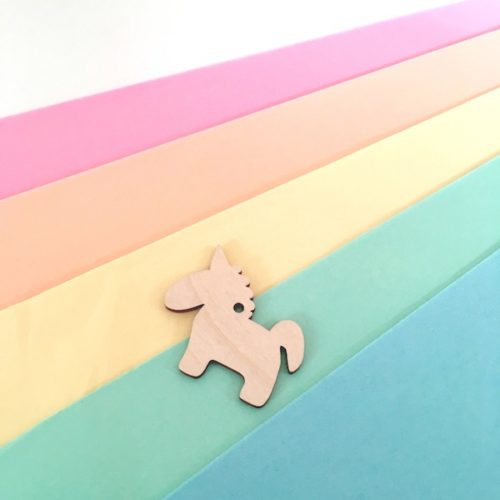 So einfach wird das Konfetti gemacht:
Schnipp schnapp, ganz einfach die Schere ansetzen und drauflos schneiden.
Am besten ist es, wenn man einen Bogen Papier entweder in 4 oder 8 gleiche Teile teilt. Daraus scheidet ihr Streifen und diese Streifen kürzt ihr dann nach Belieben, so dass rechteckige XXL Konfettis im Maß von ca. 2 x 7 cm dabei heraus kommen.
Tipp: Nehmt ruhig mehrere Lagen von dem dünnen Seidenpapier, dann geht es auch schneller.
Das macht wirklich gute Laune und hat etwas von Meditation. Papier mein Yoga, sag ich da nur. Wenn ihr genug geschnippelt habt, und im Geiste entspannt seid, dann füllt das Konfetti in eine durchsichtige Spitztüte.
Geschenk für dich – Freebie
Damit das XXL-Konfetti noch etwas hübscher anzusehen ist, bevor es zum Einsatz kommt, habe ich ein paar lustige Papier-Anhänger  als Geschenk von mir für euch vorbereitet. Am Ende des Beitrags steht die Datei im A4 Format zum Download bereit.
Ihr sucht euch einen Anhänger aus, schneidet ihn aus und klebt diesen mit durchsichtigem Klebeband an den Tütenrand.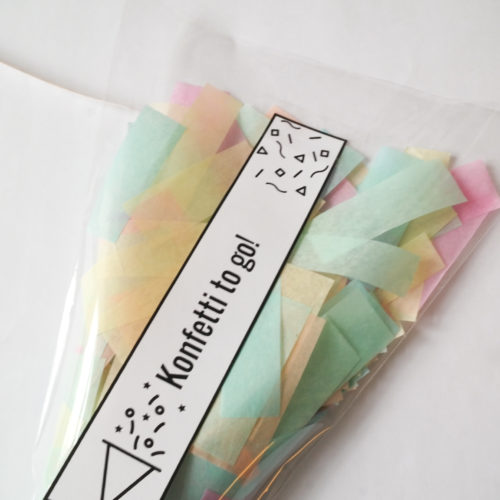 Nun nehmt ihr ein Band eurer Wahl, welches ihr ebenso an den Rand legt und klappt die Tüte zweimal herum, ebenso mit durchsichtigem Klebeband verschließen.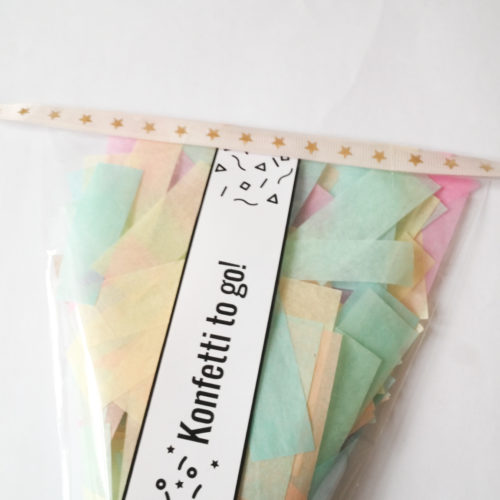 So bekommt ihr einen Henkel und könnt das selber gemachte XXL-Konfetti ganz praktisch als eine Art Handtasche mitnehmen. Ihr könnt selbstverständlich noch mehr Tüten für eure Einhornfreunde produzieren und als Geschenk überreichen. Kleine Geschenke bereichern den Alltag und verbreiten so viel Freude, erst recht, wenn das Geschenk selbst gemacht und so schön bunt ist!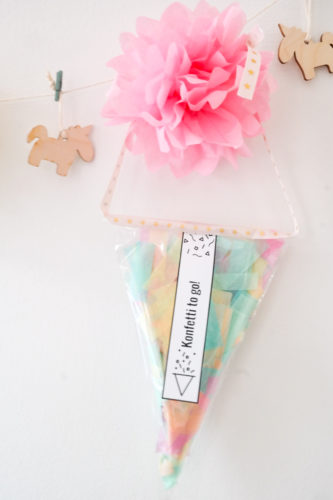 Hellau und juhu! Fliegt zum Regenbogen und verstreut dieses wunderbare Einhorn-XXL-Konfetti zum selber basteln! Ich wünsche euch ganz viel Freude und bewerfe nun den nächsten Kunden, der hier reinmarschiert …mit Einhorn Konfetti!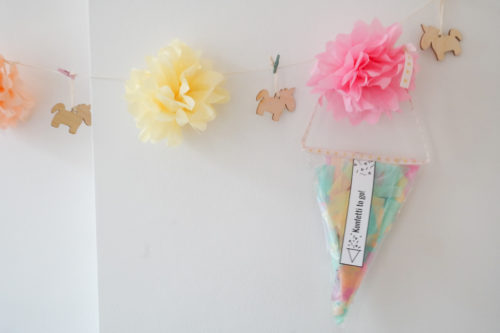 Und hier wie gewohnt, alle Sachen, welchen ich verwendet habe. selbstverständlich könnt ihr auch Papier und Bänder und Tüten aus eurem Repertoire benutzen:
♥ Seidenpapier Einhorn-Edition
♥ Ripsband mit goldenen Sternen
Download Papieranhänger für Einhorn XXL-Konfetti to go!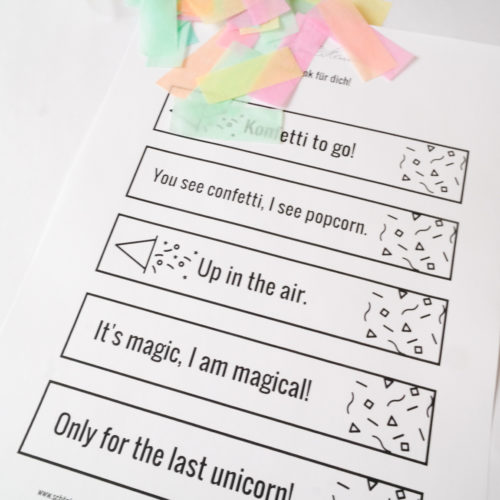 Viel Freude beim Basteln und Feiern!
Entschuldigt bitte heute die etwas verschwommenen Bilder, mein Einhorn hat mich beim fotografieren immer von der Seite geschupst! 😉
Eure Stefanie
von SchönHerum