Hallo Ihr Lieben,
heute zeige ich euch eine festliche Verpackung für ein Geldgeschenk. In dem Fall war es ein Geldgeschenk zur Jugendweihe, man kann es aber auch zur Konfirmation, zur Hochzeit oder zum Geburtstag anpassen.
Für alle, die mit dem Wort Jugendweihe nichts anfangen können, eine kurze Definition:
Die Jugendweihe oder Jugendfeier ist eine nicht religiöse Feier und ein symbolischer Übertritt der Jugendlichen ins Erwachsenenleben. In den neuen Bundesländern ist diese Feier sehr verbreitet und das beliebteste Geschenk zu diesem Anlass ist nun mal Geld. Ein ähnlicher Anlass ist die Firmung oder Konfirmation.
Trotz all der Kisten und dem alltäglichen Wahnsinn liebe ich es immer wieder tolle Geschenke zu verpacken. Ich werde es nicht über und könnte es wirklich täglich tun. Ja, das ist mein Element und damit ihr auch etwas davon habt, muss ich diese kleinen und  feinen Aufträge viel öfter verbloggen oder was sagt ihr?
Verpackungsservice
Der Verpackungsservice von SchönHerum ist definitiv noch ausbaufähig. Mit den neuen Räumlichkeiten ab Juni wird es auch etwas einfacher und ihr dürft alle vorbei kommen und eure Geschenke nach Herzenslust verpacken lassen.
Vor kurzem erreichte mich ein Hilferuf einer etwas gestressten Mama. Noch drei Tage Zeit bis zur Jugendweihe, eine große Party, ein großes und ein kleines Kind und nebenbei noch jede Menge Stress im Job und im Haushalt.
Ein Geldgeschenk sollte es sein, aber bitte mit WOW-Effekt und so, dass man was in der Hand hat. Und selbstverständlich sollte es zum Party-Farbkonzept passen.
Da helfe ich doch gerne!
Vorab stelle ich immer die gleichen Fragen:
Welcher Anlass?
Für wen ist das Geschenk? Mann, Frau, Junge oder Mädchen?
Verrätst du mir das Alter?
Farbwunsch? No go Farben?
Gibt es besondere Interessen, Vorlieben oder etwas was überhaupt nicht geht?
Welchen Stil soll das Geschenk haben? Schlicht, edel, hip, verträumt, etc.
Wann wird es gebracht, wann wird es abgeholt?
Nach einem ersten Telefonat mache ich mir Gedanken und erstelle ein ca. Angebot. Zu diesem Zeitpunkt ist die Verpackung in meinem Kopf meistens schon fertig. Wenn das Geschenk bei SchönHerum ist, geht es los.
So war das nun auch bei diesem Geschenk.
Geldgeschenk zur Jugendweihe
Die Antworten auf meine Fragen zu diesem Geschenk waren schnell beantwortet und so hatte ich folgende Eckpunkte mit denen ich arbeiten konnte.
Jugendweihe (da ist man 14 Jahre alt)
Junge
Farben, blau-türkis
Er mag sehr gerne Computerspiele
Das Geschenk soll etwas her machen.
Er soll richtig was in der Hand haben.
Es soll festlich sein.
Ok, nichts leichter als das.
Geld verpacken
Die Geldscheine habe ich in Herzform gefaltet und in kleine, quadratische blau-türkise Schachteln gelegt. Aus Liebe zum Geschenk hat jede Geschenkschachtel noch ein schlichtes weißes Schleifchen bekommen.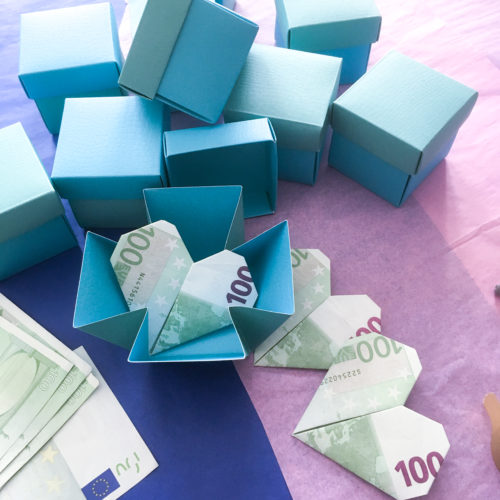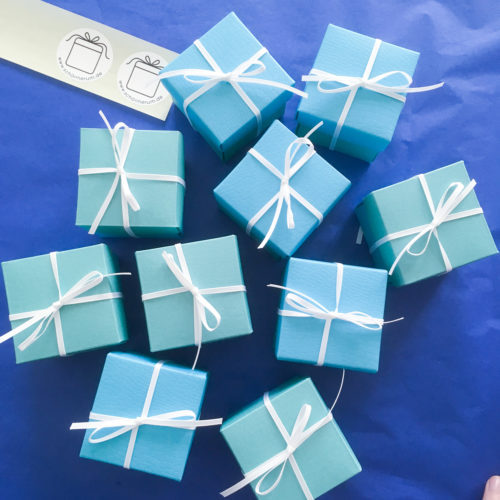 Alle Geldschachteln habe ich dann in einen großen Karton gepackt. Damit es zwar festlich aber doch noch etwas jugendlich wirkt, wurden die Schachteln in Seidenpapier gebettet und von XXL Konfetti und Schlangen aus Seidenpapier umzingelt.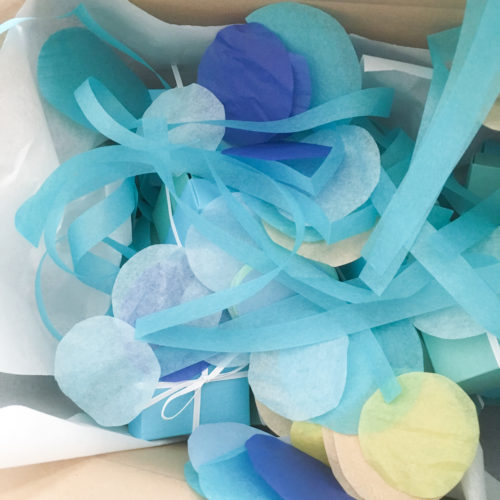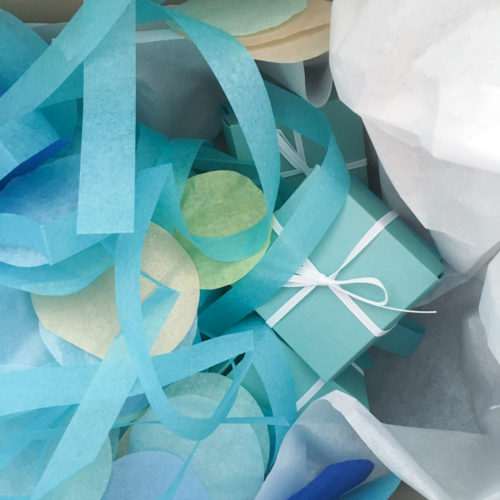 Das Konfetti habe ich kreisrund mit der Hand geschnitten. Man legt einfach bis zu 10 Schichten von dem Seidenpapier übereinander und schneidet es kreisrund aus. Da gelb-gold als Komplementärkontrast sehr gut zu dem Blau-Türkis passt, habe ich diese Farben hier als kleine Auflockerung dazu genommen.
In das Geschenk habe ich dann noch eine von zwei Botschaftskarten gelegt. Somit hatte ich das Computerthema aufgegriffen und auf diese Weise ganz dezent genutzt. "Life is a big Game. Be happy, be brave, be smart, be strong." (Text und Layout habe ich selbstverständlich vorher mit dem Kunden abgesprochen und mir freigeben lassen).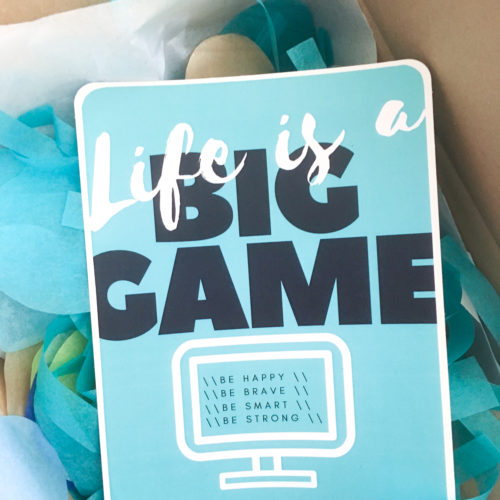 Das alles kam also rein in die Kiste und zu damit. Außen herum wurde das Geschenk in einfarbiges hellgraues Geschenkpapier verpackt. Um noch einen Kontrast zu schaffen habe ich dem Geschenk zusätzlich eine mintgrüne, 10 cm breite Schärpe umgebunden. Auf diese Schärpe habe ich die zweite Botschaftskarte geklebt und dann die Schleife darum gemacht.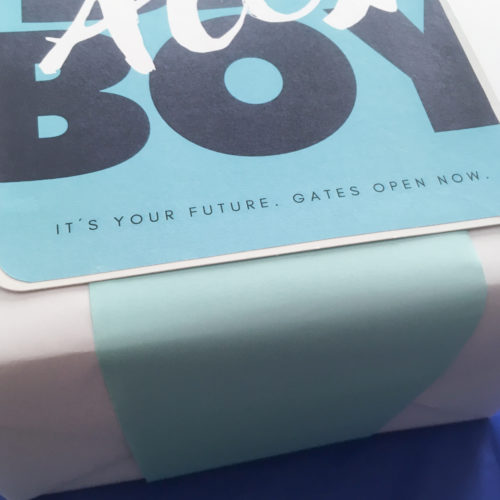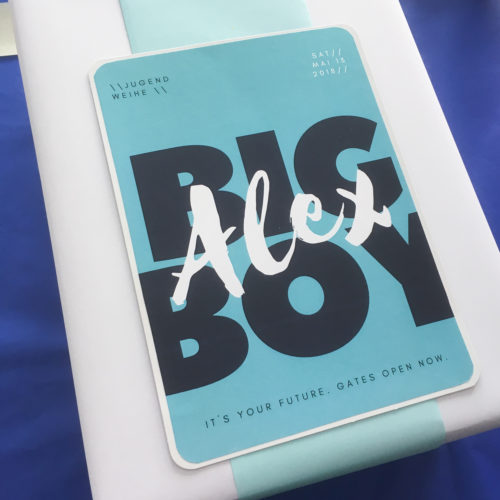 Die Schleife wurde aus 3 verschiedenen Bändern gefertigt. Tüllband, Satinband und Chiffonband.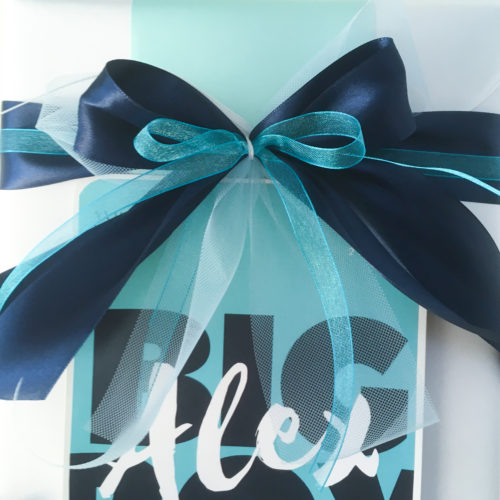 Und so sah das fertige Werk aus. Der Kunde war sehr zufrieden und ich hoffe auch der Jugendweihling hat sich gefreut und wird diese Geschenkverpackung immer in Erinnerung behalten.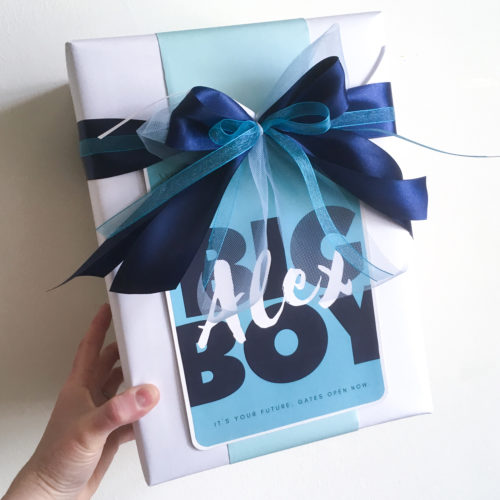 So sieht also ein Verpackungsservice bei SchönHerum aus. Individuell, durchdacht und SchönHerum aus Liebe zum Geschenk.
Wer keine Zeit, Lust oder Idee hat, sein Geschenk zu verpacken, ich stehe mit all meiner Liebe und Leidenschaft zu Geschenkverpackungen zur Verfügung.
Und nun wie gewohnt die Materialliste:
♥ Geschenkpapier, grau, einfarbig
♥ Geschenkpapier, mintgrün, einfarbig
♥ Seidenpapier, weiß, sonnengelb, gold, karibikblau, hellblau, kornblumenblau
 ♥ Geschenkband Satin, dunkelblau
Die anderen Bänder sind leider noch nicht im Shop verfügbar.
Wünscht ihr euch mehr Bilder von Geschenken, die ich verpackt habe? Einfach als Inspiration für eure Geschenke?
Mit kreativen Grüße,
Eure Stefanie
von SchönHerum